This article will explain how to create Amazon Shipping Templates in Seller Central and how to link your listings to a Shipping Template in ChannelUnity.
How to create Amazon Shipping Templates
1. Login to your Amazon Seller Central account and go to Settings > Shipping Settings
2. Select "Create a New Delivery Template" then click OK
3. Set the name of the new shipping template and also setup the Rate Model to be 'Per Item / Weights-based' or 'Price Banded'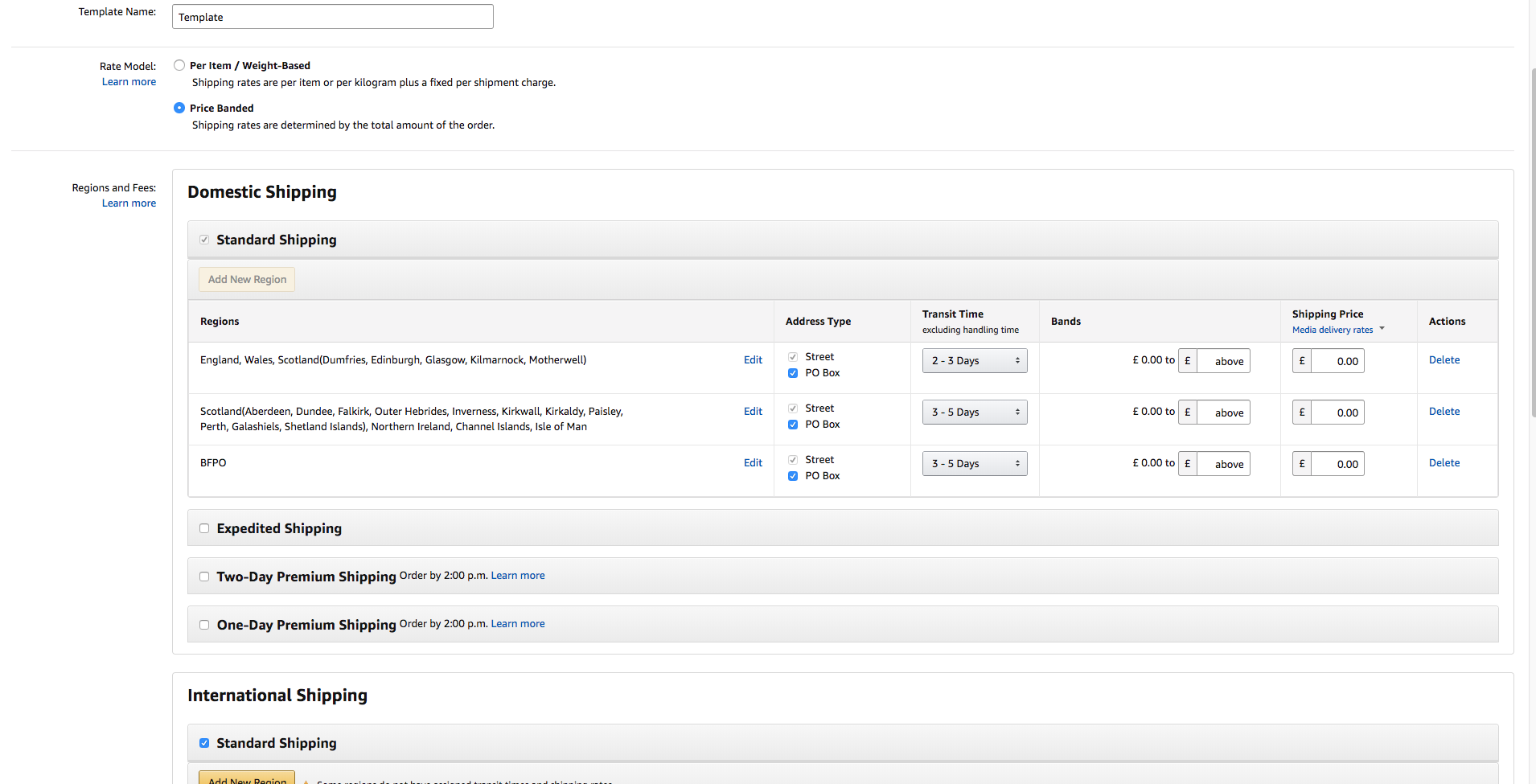 Instructions for a Price Banded shipping template
For Price Banded shipping templates, you can set both domestic and international shipping options. You can also set Standard and Expedited shipping options for both domestic and international orders. For domestic orders, you can also add One-Day and Two-Day Premium Shipping options.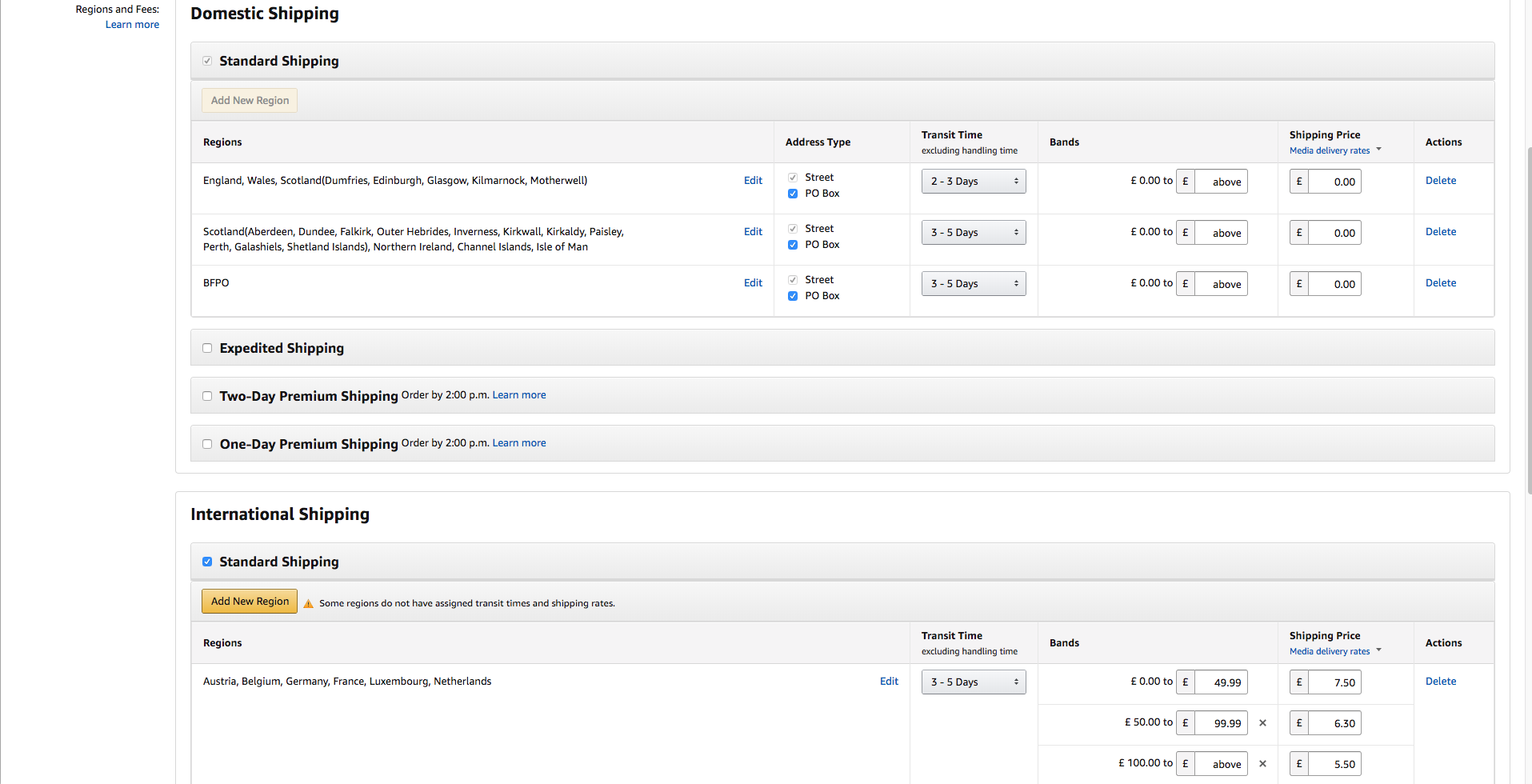 For the Domestic Standard Shipping options, it is possible to set the Address Types, Transit Times, Bands and their corresponding Shipping Price for each domestic region. However, it is not possible to change the Transit Time or Delivery Times for Expedited and Premium Shipping options.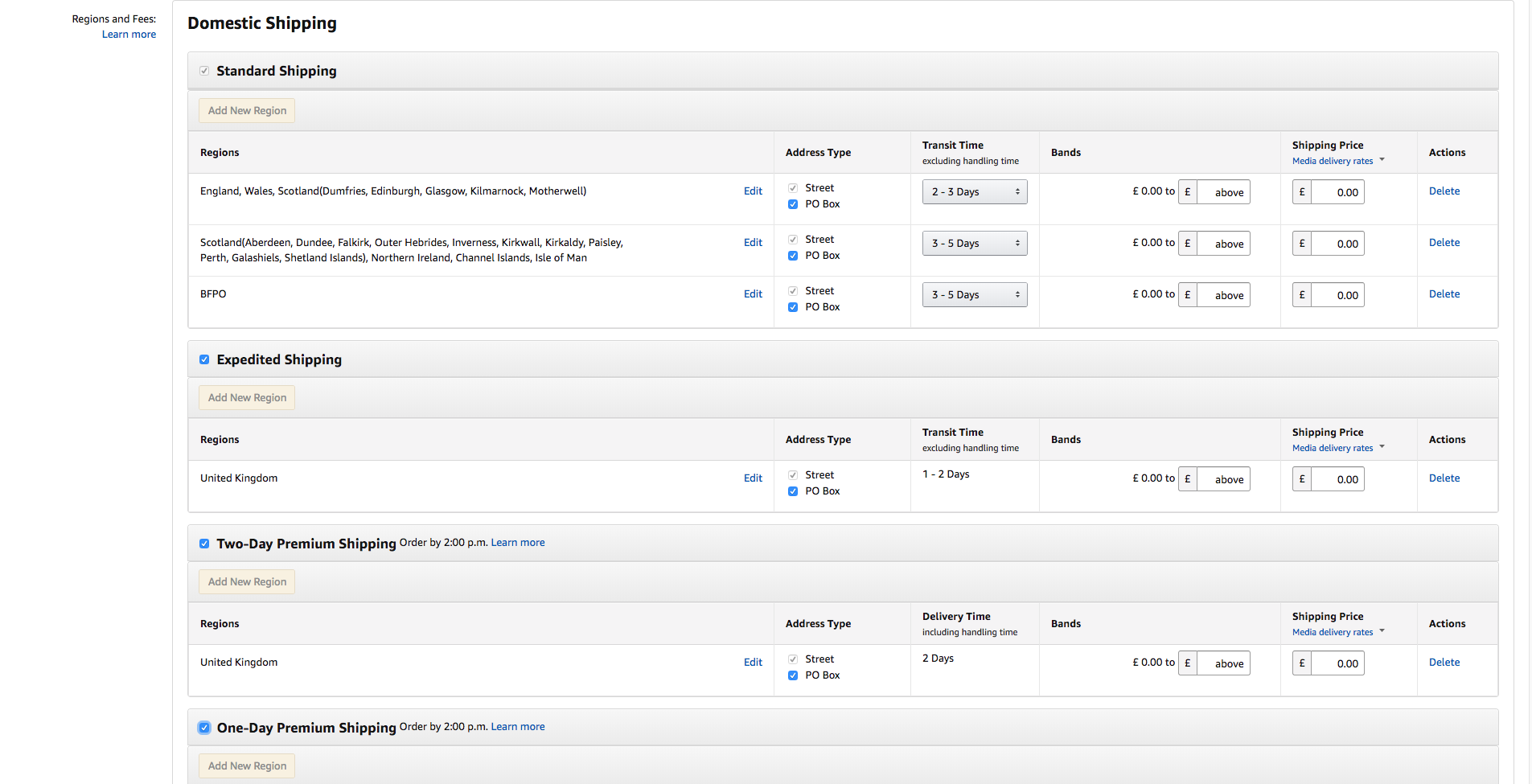 For the International Shipping Options, it is possible to adjust the Transit Times on both Standard and Expedited Shipping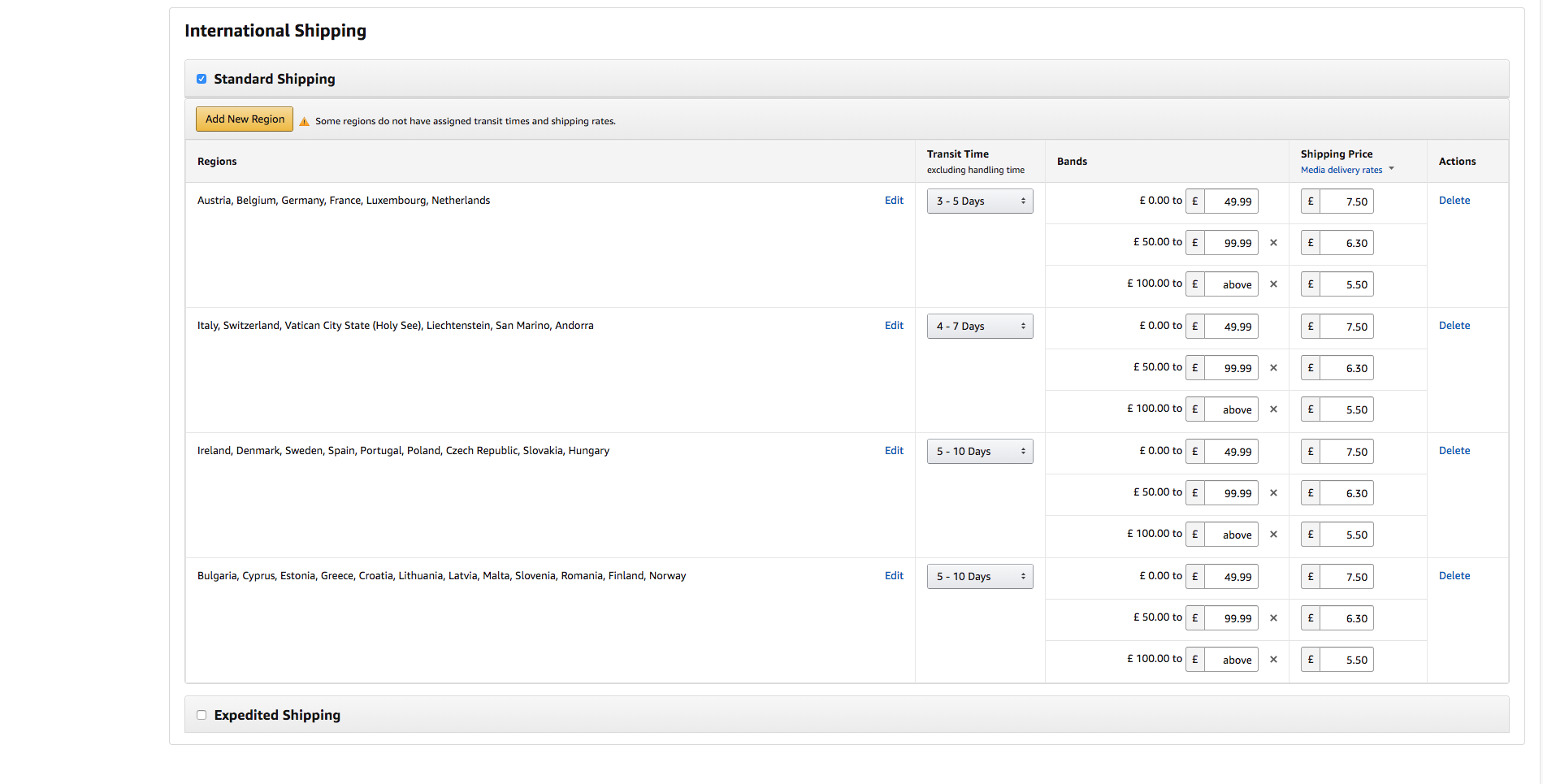 Instructions for Per Item / Weight-Based shipping templates
Per Item / Weight-Based shipping templates differ from Price Banded shipping templates in that the shipping fee is calculated by the Price per order plus Price per Kg or Item. Your item weights will need to be included in your product data in your online store so that ChannelUnity can then send this data to Amazon. You will also need to ensure that a field mapping is set up in the Describe Product Fields section in ChannelUnity. You will need to map 'Package Weight' to your online store field that contains your product weights.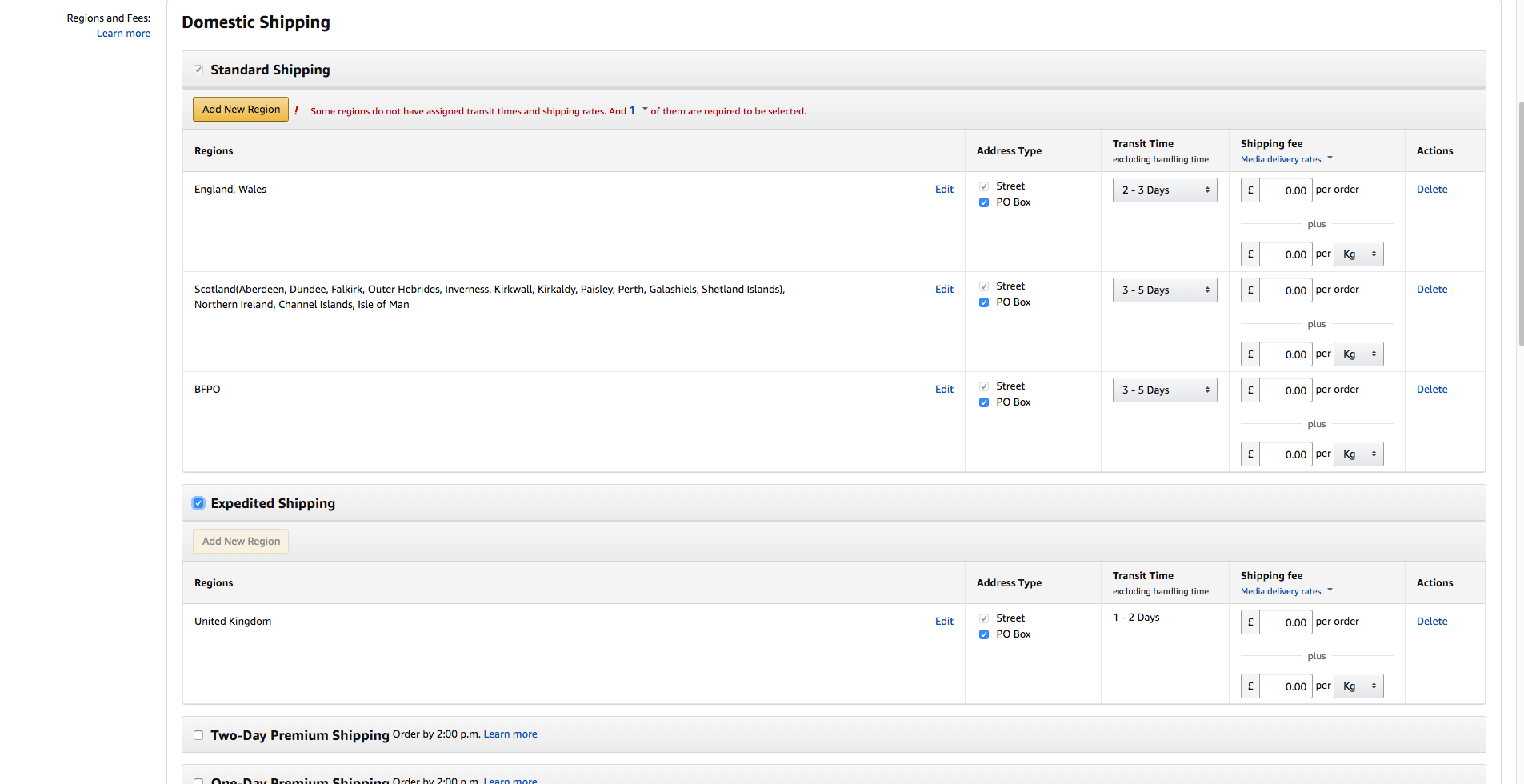 How to apply Shipping Templates to your Amazon listings using ChannelUnity
Once you have created your Shipping Templates in Seller Central, go to your ChannelUnity account and add the name of the Shipping Template to the 'Merchant Shipping Group Name' field, found under the Listing tab of your Amazon listing setting. Save the changes, then apply the listing setting to the products in ChannelUnity for which you would like to use the new Shipping Template.