Please note that unlike our other marketplaces, our integration with Wayfair is limited to Order Import, Shipping and Stock updates.
We cannot list products to Wayfair or adjust prices.
Before you add Wayfair to your account:
Wayfair utilises FTP transfers for both stock and order updates. Please contact Wayfair for your FTP login as this will be required as part of the setup.
Wayfair also has different levels of access via FTP. Not all functions will be available initially.
The best and most direct way of getting access to all feed types is to login to your Wayfair account and open a ticket to request 'full access to the FTP MGMT suite'.
Wayfair will respond with a form to fill in. One part is your details, another are some technical details which you can fill in as below:
Connecting the Wayfair marketplace:
Go to Unity Store tab and select Wayfair. If you are a trial customer still going through the setup steps, you must first quit out of this by selecting 'Hide this Guide'.
After adding the Wayfair channel, follow the setup steps to provide ChannelUnity access to your FTP account with Wayfair.
You can repeat the setup steps by going to: Listings > Settings > Channel Settings > Repeat Setup Wizard
All data between ChannelUnity and Wayfair will be transferred via FTP:
Importing Orders
Shipping Orders
Updating Stock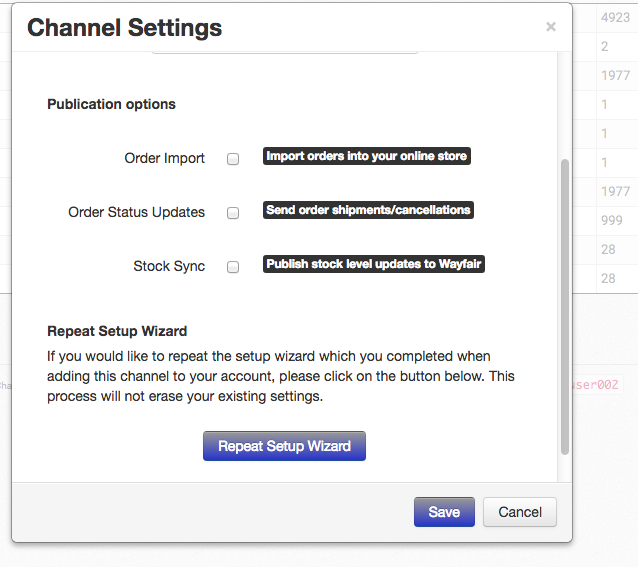 Each of the above has its own Publication Option which needs enabling before it will run. Everything is disabled initially.
Go to Listings > Settings > Channel Settings. Enable the Publication Options you wish to use.
Should you only wish to start importing orders from a certain date, please contact our support team prior to enabling order import with the desired date/time.
If you are Shipping orders, we need to know the service you use so we can translate it into the correct code that Wayfair require. Please contact support with these details.
Create a Wayfair Listing Setting:
A listing setting contains vital data such as your supplier ID and your ship from address. Without it you can't ship your items or update stock, so it is crucial to make it as early as possible.
Go to Setup > Listing Settings > Create new listing setting.
Fill out all required information in the Shipping tab.
If you wish to modify your stock level settings please review the Inventory tab.
Save your listing setting, then go to Listings > Settings > Channel Settings.
At the bottom of the page, select your new listing setting to be the default used. This will ensure it gets used when you list an item.
Select your items to be updated:
Go to Listings > Create New Listings.
Initially all your items will be in Not Listed status.
You can select the ones that are on Wayfair currently (ChannelUnity is reliant on you knowing this yourself), and select them to list by going to Actions > List Products to Wayfair.
If you have a file or report of some kind with a list of all SKUs on Wayfair, you can send in a ticket to our support team and we will move them all to listed status for you.
Order Fulfillments
Please make our support team aware of the shipping carrier(s) you plan to use. Wayfair use specific carrier codes that we may need to translate to for you.
Please also tell us if you are drop shipping to Wayfair or sending orders to customers directly.
Email support@channelunity.com with this information
Setup Complete
If you have a ticket open with Wayfair regarding FTP MGMT suite, ChannelUnity won't be able to import orders or ship them until this is actioned.
Please notify us once you hear back from them that you are ready to get started.